Maritime Crime Programme - Indian Ocean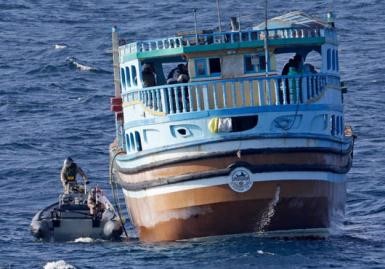 The Indian Ocean, joining East Africa, the Middle East, and South Asia, holds some of the world's busiest shipping routes and fishing grounds. Many Indian Ocean littoral states rely heavily on their Blue Economy as a source of income, nutrition, employment, and generally a driver of development. Meanwhile, oceans are considered the biggest crime scene in the world as vast unregulated spaces offer perfect conditions to hide criminal activities, namely anonymity and freedom from law enforcement. Crimes committed at sea not only threaten the security of seafarers and undermine blue economies, they also have harmful societal spill-over effects in littoral states such as, for example, increase in drug addiction in small island developing nations that are transit points for maritime narcotics smuggling.
Maritime security and countering maritime crime, also termed Blue Justice, is therefore a key priority for Indian Ocean States, particularly as the volume and gravity of crime committed at sea increases. The reach of law enforcement in the Region is, however, very scarce and the physical challenges of apprehension are vast.
Recognizing that the livelihoods of 37% of the world's population rely on the oceans, UN Sustainable Development Goal 14 seeks to protect coastal and marine resources and ensure that they remain a driver of economic development in the long term. Enhancing capacity for Blue Justice is an important component of this goal and a key target of the Global Maritime Crime Programme's Indian Ocean sub-Programme (GMCP IO).
The GMCP IO team works with coastal states of the Indian Ocean to enhance and coordinate their efforts to effectively respond to maritime crimes affecting their waters. Supporting the "Piracy Prosecution Model" as a criminal justice response to Somali piracy was the programme's foundational work and continues to be central to support delivered in the Indian Ocean. The IO team also works with states to develop their national maritime law enforcement capacities to combat specific maritime threats they face, such as drugs trafficking and maritime terrorism, and has established a trans-regional maritime crime coordination mechanism; the Indian Ocean Forum on Maritime Crime (IOFMC).
From countering Somali Piracy to combatting general maritime crime - the history of the GMCP IO
Piracy off the Horn of Africa reached alarming rates in 2007-2008. In response, international naval forces, authorised by a series of United Nations Security Council resolutions, were deployed to carry out counter-piracy patrols: to secure a safe corridor for transiting vessels and to respond to piracy attacks or reports of suspicious activity on the high seas.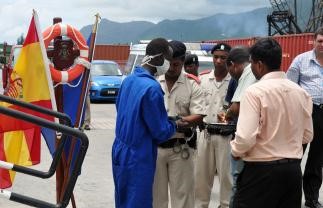 This military response to piracy - which continues today - has proven highly effective. However, initially, it provided no 'legal finish'. Naval forces intercepting suspected pirate groups on the high seas were often forced to let the suspects go without sanctions because sound and efficient criminal justice mechanisms were not in place to enable prosecution. UNODC established the Counter Piracy Programme, which would go on to become the GMCP, to address this obstacle through the 'Piracy Prosecution Model'.
Under the piracy prosecution model, willing prosecuting States first need to ensure they have legislation in place to allow them to prosecute piracy domestically. Prosecuting States then formalize transfer agreements with naval forces carrying out counter-piracy patrols. Under these transfer agreements, when suspected pirates are apprehended at sea, the naval force secures the evidence and submits a request to the prosecuting State. The State may accept or refuse the case for prosecution based on its own evaluation of the evidence and other considerations. Upon receiving the suspected pirates in its own jurisdiction, the prosecuting State investigates the case further and proceeds to prosecute the case domestically.
The GMCP has been involved in supporting all junctures of this process: assisting States to draft or amend legislation criminalizing piracy and establishing jurisdiction; developing guidelines on the collection of evidence and the handover of evidence and suspects to prosecuting states; providing interpreters during the handover, police investigations and prosecutions; improving infrastructure to courts and prisons to ensure compliance with standards of security and human rights; providing training, equipment, mentoring and systems to improve the effectiveness and efficiency of investigations, prosecutions and adjudications of piracy trials; defraying the costs of legal aid for the piracy suspects throughout their trials and appeals; ensuring opportunities for foreign witnesses to give testimony at trial or through video-link; providing mentoring, supplies, and programmes in prisons to ensure that detainees are afforded conditions that meet international minimum standards, assist in rehabilitation and reintegration of piracy detainees; and, finally, facilitating the prisoner transfer or eventual repatriation of persons convicted of piracy to prisons built and mentored under the Programme in Somalia.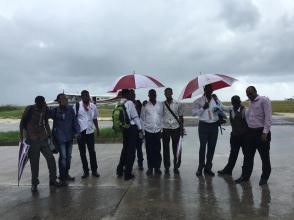 The Piracy Prosecution Model has been applauded as an innovative regional criminal justice approach taken by states in the Western Indian Ocean in response to the shared threat of piracy, particularly Kenya, Mauritius and Seychelles who stepped forward as prosecuting States. It was to a certain extent made possible by the "universal jurisdiction" of the crime of piracy. With 318 piracy suspects handed over for prosecution between 2013 and 2016, Kenya convicted 147, Mauritius 12 and Seychelles 148. The model provided a deterrent mechanism that resulted in a legal finish for suspected pirates detained on the high seas. The GMCP IO team and partners at EU NAVFOR continue to support countries in the Region to make sure that the Model remain in place should the threat of piracy return.
GMCP IO today - building Maritime Law Enforcement capacity to tackle maritime crime threats
Building on the experience gained under the piracy prosecution model, the Indian Ocean team has expanded its work with Indian Ocean States to build their capacity to fight maritime crime.

KENYA
Kenya's northern coastal border with Somalia is subject to various forms of maritime crime, including threats of terrorism emanating from the sea. The GMCP supports the Kenya Maritime Police Unit (MPU) to build capacity through the delivery of training courses developed specifically to build capacity to increase the effectiveness of the fight against maritime crime. GMCP's MLE training is fundamentally routed in day to day mentoring in core skills such as seamanship, maritime policing, and engineering by experts embedded with maritime law enforcement authorities. In addition, specialized training is offered on specific crimes in the maritime environment. The aim of these training courses is to give officers the tools to, for example, spot signs that crew on board a vessel are victims of trafficking, or that a ship is smuggling narcotics in hidden compartments, etc. These courses also include practical exercises in Visit Board Search and Seizure at sea which tend to be quite complex operations.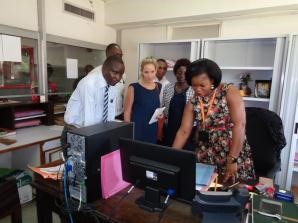 GMCP also supports the Kenyan court administration in Shanzu and Mombasa Courts where investments were made to develop an Electronic Case Management system aimed to sustainably reduce the burden and backlogs the criminal courts charged with hearing piracy and maritime crime trials.
Future interventions will focus on expansion of Kenyan courts to create more operating and storage space, more specialized training to help the MPU better monitor and respond to threats of crime and security in northern Kenya, increasing operational cooperation between the Kenya Maritime Police and the Rural Border Patrol Agency, and incorporate practical exercises in the maintenance and upkeep of their boat fleet, including developing safety procedures for the conduct of boat maintenance.
SEYCHELLES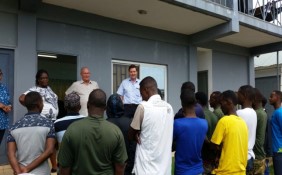 Seychelles was hit hard in the years of Somali Piracy as important shipping routes were disrupted, fishing vessels were reluctant to fish in Seychelles waters, cruise ships and other forms of tourism took their business elsewhere - all of which had a devastating impact on the otherwise comparatively healthy economy of this African state. In addition, Seychelles suffered the direct consequences of piracy with own nationals being taken as hostages. In reaction to the situation, Seychelles got deeply involved in international counter piracy efforts and played a key role in carrying out prosecution of more than 100 pirates and setting up a dedicated intelligence fusion centre to ensure that pirates were brought to justice. As a 'small island developing state' with an enormous EEZ, Seychelles suffers the consequences of other maritime crimes. One example is the use of Seychelles as a transit point for heroin being smuggled along the Southern Maritime Route from the Makran Coast which has provoked an alarmingly high drug dependence rate among Seychellois youth and one of the highest rates of youth incarceration in the world.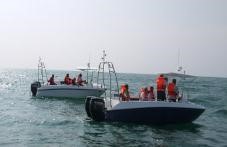 GMCP IO's intervention in Seychelles is focused on enhancing Maritime Law Enforcement and Court Administration capabilities.  Welfare support to piracy prisoners also continues to ensure their secure and humane detention. Future interventions will continue to support law enforcement but specifically focus on improving case management in order to conducts fair, efficient and effective piracy and maritime crime trials, and to implement structures to enable alternative sentencing, which will in turn help reduce overcrowding in prisons.
MALDIVES
GMCP is currently expanding its programming remit to Maldives where interventions will focus on improving maritime security across the archipelago through enhancement of communication capabilities and better response to maritime threats.
BANGLADESH
The GMCP is working with Bangladesh on the implementation of a project to enhance capability of the Bangladesh River Police units around Dhaka city. The project will provide several Police patrol boats, a gangway/pontoon, and training in marine law enforcement to the Bangladesh River Police units. This will enhance the operational capability of the River Police to respond to critical incidents and counter crime around the Dhaka city region.
Trans-Regional Coordination on Maritime Crime: IOFMC

The Indian Ocean constitutes a third of the world's ocean space and borders 24 littoral states. The ability of states to detect crime and enforce jurisdiction is complicated both legally and practically and demands a high level of cooperation and coordination between the littoral states.
The GMCP established the Indian Ocean Forum on Maritime Crime (IOFMC) as a coordination platform to enhance Regional Corporation and develop a law enforcement community around the Indian Ocean.  The IOFMC plays a multi-faceted role and its core functions are as follows:
1. A Network of Networks
IOFMC has emerged as a multi-thematic coordination mechanism for regional cooperation and capacity building to counter maritime crime in the Indian Ocean region.
2. Drug Trafficking: Southern Route Partnership (SRP)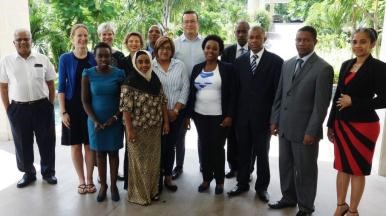 The Southern Route Partnership provides a coordination platform for national drug enforcement agencies and international partners to identify priority areas and coordinate support that enhances common objectives.
3. Maritime Piracy: Regional Capacity Building Working Group (RCBWG)
IOFMC provides the Secretariat role for the Regional Capacity Building Working Group (RCBWG), a coordination mechanism established under the Contact Group for Piracy off the Coast of Somalia that brings together donors and implementing agencies to develop capacity building initiative to counter the threat of maritime piracy. 
4. Mutual Legal Assistance (MLA): Indian Ocean Prosecutors Network (IOPN)
IOFMC provides the secretariat role for the Indian Ocean Prosecutors Network (IOPN). The network provides an opportunity for senior prosecutors from the region to discuss mechanisms for cooperation and information exchange and expeditious responses to MLA requests.
5. Maritime Piracy: Law Enforcement Task Force (LETF)
IOFMC provides the Secretariat role for the Law Enforcement Task Force (LETF). The LETF brings together global efforts to secure indictments against key pirate leaders and financiers.
Additionally, IOFMC is secretariat to the UNSC Res 2244 Implementation Group, recently playing a key role in the development of a workplan to counter smuggling of Somali charcoal and prevent funding of terrorism.  IOFMC functions as a repository of statistical data relating to criminal activity in the Indian Ocean region. The Compendium of Drug seizures at Sea (Indian Ocean) collates information on all maritime drug seizures by Indian Ocean states.
In 2017, the UNODC IO team opened offices in Sri Lanka, where the IOFMC will be headed from, and in Thailand, to begin developing the GMCP's work in Southeast Asia and the Pacific. The programme is also working closely with the African Union, providing support in finalising the Africa's Integrated Maritime (AIM) strategy Annexes and thereafter, support the developing of implementation mechanisms.