International and national mechanisms for combating human trafficking and protecting victims of human trafficking
Tashkent, Uzbekistan
5-7th May 2009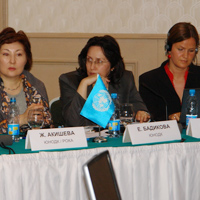 What are the requirements of States to be in line with the obligations of international legal instruments, in particular the UN Convention against transnational organized crime and the Trafficking in Persons Protocol? What are considered  best practices for countering human trafficking globally? How can international cooperation between the countries of origin, transit and destination in combination with the development of internal coordination mechanisms be more efficient and effective? These issues, alongside many others related to the topic of trafficking in persons, were the main focus of the workshop «International and national mechanisms of combating human trafficking and protection of  victims of human trafficking» organized recently in Tashkent (Uzbekistan) by the Regional Office of the United Nations Office on Drugs and Crime in Central Asia in coordination with the Government of the Republic of Uzbekistan.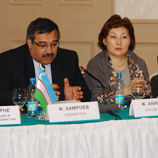 The workshop was attended by representatives from the law enforcement agencies of Uzbekistan engaged in countering human trafficking such as the Ministry of Interior, Supreme Court, the Prosecutor General Office and National Security Service Overall, the workshop gave the participants an opportunity to enhance their knowledge of existing international instruments and mechanisms, as well as international best practices in the field of fighting human trafficking. In light of the efforts currently being undertaken by Uzbekistan to provide assistance to victims of human trafficking through the establishment of the country's first rehabilitation centre, a special focus was made on international experience of rendering adequate assistance and protection to victims of human trafficking. The constructive discussion of issues related to the importance of international cooperation in countering human trafficking and exchange of experience between the international experts and representatives of Uzbekistan law enforcement agencies made this event a successful one.

To support the efforts of the Government of Uzbekistan in combating human trafficking, UNODC has been implementing the project "Strengthening criminal justice response to human trafficking in Uzbekistan" since early 2008. It is aimed at providing assistance to the Uzbek Government in strengthening its criminal justice response to trafficking in persons in line with the UN Convention against Transnational Organized Crime and its supplementing Protocol to Prevent, Suppress and Punish Trafficking in Persons, especially Women and Children.  In pursuing this objective, project activities are focused on supporting the government in its efforts to strengthen anti-human trafficking legislation, increasing the capacities of law enforcement and prosecution through training, establishing a human trafficking database and facilitating regional and international cooperation.
Visit the UNODC Regional Office for Central Asia.