UNODC provided training to South East Asian institutions to combat cybercrime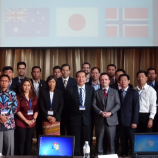 13 October 2016 - Last week, UNODC has provided five days of regional training to upskill 30 investigators, prosecutors and judges regarding Digital Evidence and Cybercrime investigation.
The training, delivered through the Global Programme on Cybercrime, provided support to South East Asian institutions to prevent, investigate, prosecute and adjudicate against cybercrime.
Kindly funded by the Governments of Australia, Japan, and Norway, the training was delivered by Neil Walsh, UNODC Chief of the Global Cybercrime Programme, and Professor Joshua James to judges, prosecutors and investigators from Cambodia, Lao PDR, Indonesia, Malaysia, Myanmar, Philippines, Thailand and Viet Nam.
The participants gained increased skills and knowledge on cybercrime investigation and prosecution - including darknet and hidden web services -, hacking, device imaging, using electronic evidence and online child sexual exploitation case investigation using the #WePROTECT Global Alliance Model National Response.
Further Information:
UNODC in Southeast Asia and Pacific
Transnational Organized Crime in the Pacific: A Threat Assessment