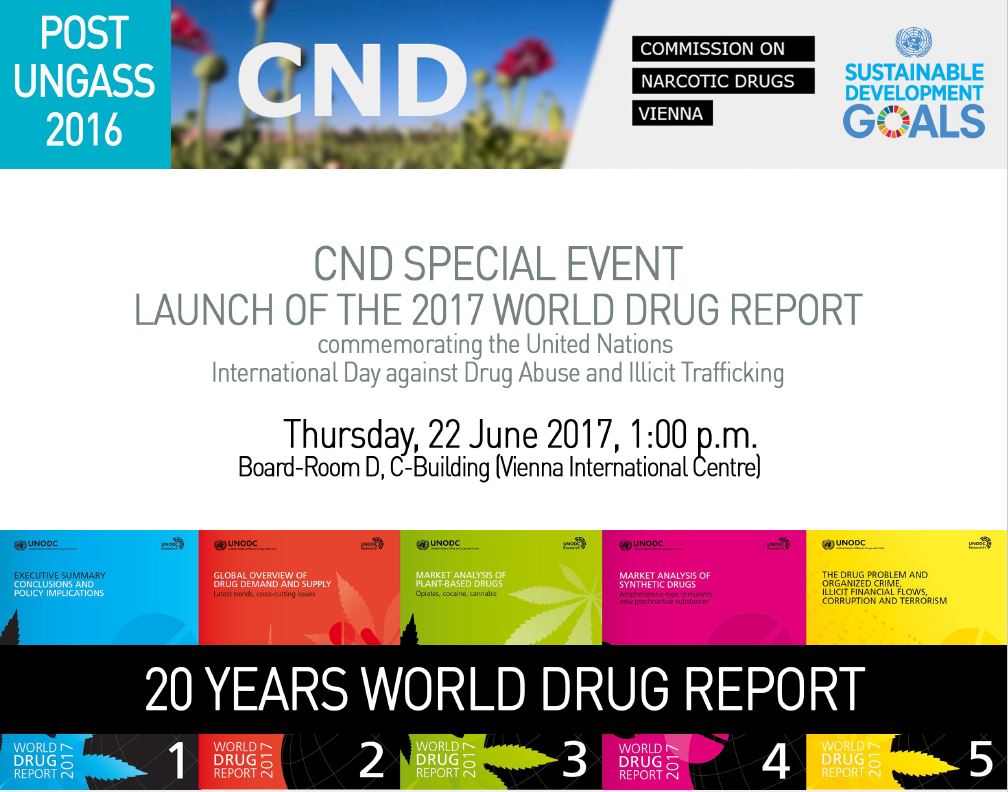 Vienna - At the occasion of the United Nations International Day against Drug Abuse and Illicit Trafficking, the 2017 World Drug Report was launched by the Executive Director of UNODC, Mr. Yury Fedotov, in Vienna. In addition to the special event in Vienna, launches were also held at the UN Headquarters in New York, Geneva and Nairobi.
 

 

The launch of the 2017 World Drug Report was chaired by H.E. Ambassador Bente Angell-Hansen, Chair of the 60 th CND. The high-level panel also included H.E. Ambassador Mitsuru Kitano, Chair of the 26 th CCPCJ, H.E. Michael A. O. Oyugi, Second Vice-Chair of the CND and Permanent Representative of Kenya, H.E. Ambassador Pilar Saborio de Rocafort, President of the 8 th Conference of the Parties to the UNTOC and Permanent Representative of Costa Rica, as well as H.E. Ambassador Brendon Hammer, Permanent Representative of Australia.

 

 

 

The World Drug Report presents a comprehensive annual overview of the latest developments in the world's illicit drug markets by focusing on the production, trafficking and consumption of the main types of illicit drugs, along with the related health consequences of those drugs. Ms. Angela Me, Chief of the Research and Trends Analysis Branch of UNODC, presented key data and findings contained in the 2017 World Drug Report.
| | |
| --- | --- |
| As the CND is working on the follow-up of to 2016 UNGASS on drugs, Mr. Yury Fedotov, Executive Director of UNODC, highlighted that the " findings of the 2017 World Drug Report can support implementation of the recommendations in the outcome document of the 2016 UNGA special session on drugs." | |
| | |
| --- | --- |
| | New York - The 2017 World Drug Report was launched with Mr. Jean-Luc Lemahieu, UNODC Director of Policy Analysis and Public Affairs, Ms. Simone Monasebian, Director of UNODC  New York Office, and H.E. Ambassador Álvaro Mendonça e Moura, Permanent Representative of Portugal to the United Nations. Mr. Thomas Pietschman, from the UNODC Research and Trend Analysis Branch, presented the key findings of the Report. |
Geneva - UNODC launched the 2017 World Drug Report in partnership with UNAIDS and WHO. The event was co-chaired by Mr. Aldo Lale-Demoz, UNODC Deputy Executive Director, Mr. Luiz Loures, UNAIDS Deputy Executive Director, Dr. Shekhar Saxena, WHO Director of the Department of Mental Health and Substance abuse, and Ms. Chloé Carpentier, Chief of the Drug Research Section at UNODC. Mr. Lale-Demoz highlighted the campaign titled Listen First!, a prevention campaign launched jointly by UNODC and WHO, with the support of the Swedish government, which focuses on the children and the youth.

UNODC Deputy Executive Director concluded that the " prospects of working together to translate normative wisdom produced by Member States into concrete actions have never been better".
| | |
| --- | --- |
| | Nairobi - The launch event, chaired by Mr. Alan Cole, UNODC Regional Office for Eastern Africa (ROEA) Officer in Charge, included comments by Mr. Gideon Kimilu, Head of INTERPOL Regional Bureau Nairobi, and Prof. John Muteti, Director, Research & Policy Development from the National Authority for the Campaign Against Alcohol and Drug Abuse (NACADA), who presented their respective organizations' views on the importance of effective drug supply and demand interventions. The 2017 World Drug Report was subsequently presented by Mr. Johan Kruger, ROEA Head of Transnational Organized Crime, Illicit Trafficking and Terrorism Programmes, and Mr. Hussein Manji, ROEA Health and Social Development Specialist.  |